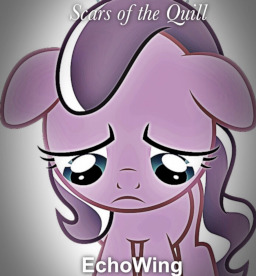 Source
No one is without some scars. Some are on the surface, and fade with time, but others run deep, and may never fully heal. And any number of things can cause those scars to reopen.
Quiver Quill's scars run deep, deeper than even his closest friends in Ponyville are aware of. And thanks to helping to organize a class assignment at Ponyville Elementary, his scars will start to come to the surface thanks to interacting with a filly who's caused quite a few scars of her own - Diamond Tiara. His interactions with her will lead to both of their collective scars coming to the fore, and force them to see the results of their actions.
---
This story contains elements from the episodes "Twilight Time", written by Dave Polsky, "Crusaders of the Lost Mark", written by Amy Keating Rogers, and the comic story "Don't You Forget About Us" from issues 38-39, written by Christina Rice with art by Agnes Garbowski. Cover art courtesy of LadyGoth88.
Chapters (9)