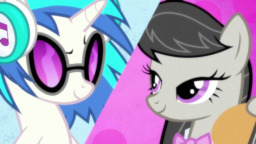 Source
This story is a sequel to Twilight Doesn't
---
It isn't often that Rarity can spend time with both Octavia and Vinyl. Twilight and Applejack being available as well makes for a pub dinner not to be forgotten.
Some friendships at the table are closer than others, and some are older than others. As the conversation continues, it also gets a bit personal for all concerned.
(Chronological Note: this story takes place during Season Two.)
(Content Note: contains conversation about sexuality and relationship structure.)
Part of the Elsequestria continuity.
This timeline continues in Lessons for the Teacher.
Chapters (1)