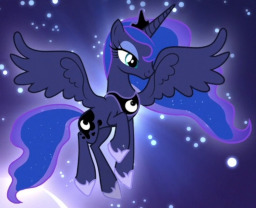 Source
This story is a sequel to Breakfast at Twilight's
---
Twilight's newest friend is from the human world, and knows almost nothing about Equestria.
Fortunately, Twilight has given her books.
Unfortunately, Twilight gave her books yesterday.
Additionally, said newest friend is also prone to nightmares, and does not know who the other princesses are yet.
Nothing can go wrong with this.
(Chronology Note: this story takes place between seasons Four and Five.)
(Content Note: sexual themes are discussed and explored. Contains no underage sex.)
This timeline continues in Cupid Mark Crusaders.
Part of the Sunset Rising continuity.
Chapters (3)