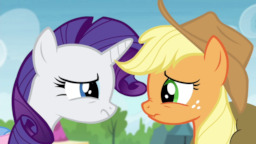 Source
This story is a sequel to When All of Your Wishes Are Granted
---
At Sunrise's belated welcoming party, Rarity and Applejack share how, after a brief breakup, they were reunited again.
It seems that after a careful analysis of the situation, the Cutie Mark Crusaders determined that the older girls' personal lives were none of their business. They therefore made the mature decision to leave Applejack and Rarity to resolve their relationship however they saw fit, without interference.
Just kidding. They pretty much set everything on fire.
(Chronology Note: the framing device of this story takes place early in Season Five, but the story told by the characters flashes back to events in Season One.)
Part of the Sunset Rising continuity.
Chapters (2)