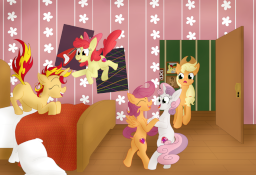 Source
This story is a sequel to Reunions and Laments
---
Black Rainbow is a unicorn shock rocker with a tempestuous reputation. So, when the CMC wanted to attend one of his concerts, Sunrise volunteered to chaperone. Applejack, Rarity, and Twilight all thought this was an excellent idea.
They had all forgotten that, even for someone from another world, Sunrise has an unusual perspective on things.
When the concert ends, the discussions begin. Suddenly, the jury is out on just how excellent that idea was. Sunrise's explanations may or may not be helping her case.
---
(Content note: narcotics, or "bad alchemy," are discussed by the main characters but not used by any characters directly depicted.)
Artwork by Sixes_and_Sevens. Please check out their excellent artwork and stories.
This continuity continues in Back to School.
Chronology Note: This story takes place at the beginning of Season Six. In this timeline, Starlight is not Twilight's apprentice.
Part of the Sunset Rising Continuity.
Chapters (1)