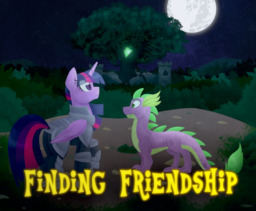 Traveling the world can be a strange and dangerous ordeal, especially when you're all but on your own.
And after one adventure ends in almost complete disaster, Twilight Sparkle has decided to take a much-needed vacation for both herself and her sole companion. Some time to themselves, some time to catch up on their reading, and some time to not almost be eaten by dragons. And fortunately, she's managed to come across a nice quiet little country town to settle her roots into for the foreseeable future.
Unfortunately, it's never quite that easy. Especially when your name is Twilight Sparkle, a pony with a knack for getting mixed up in all sorts of trouble. And the quiet little town she has found might not be so quiet after all...
Cover art commissioned by me, from one Hoodwinked MCShelster.
Audio-version over on YouTube.
If you can't see the cover art, it's because I currently can't upload it to FimFiction. So for the time being, you can see it by clicking This Link.
>>FEATURED A MULTITUDE OF TIMES. THANK YOU ALL SO MUCH<<
Tags are subject to change depending on viewer response. For the sake of ease, here are my "subtags," placed down here instead of up there because there isn't room for them.
—Comedy
—Drama
—Mystery
An alternate universe story based on some G5 rumors, this really odd dream I had once, and a few other things. Expect references/shoutouts to all sorts of MLP media, such as the movie or comics, and various other fantasy works like D&D. But also expect some major instances of me changing things to further distinguish this from canon. Spike is a pretty good example. You'll figure out why soon enough.
This story is written exclusively for entertainment purposes.
Story has been canceled. For more information on that front, see here: https://www.fimfiction.net/blog/1004535/finding-friendship-cancelation-announcement
Chapters (55)