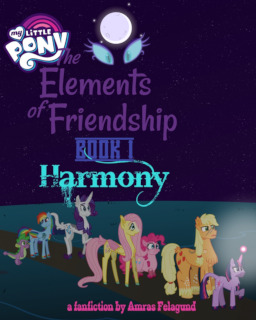 Source
Twilight Sparkle, a ward of the crown ever since she accidentally turned her parents into plants, is dispatched by Queen Celestia to the small hamlet of Ponyville; the Unicorn has expressed fear that an eldritch Alicorn of the past will arise there. And when Twilight Sparkle fails to defeat the fiendish NightMare Moon in the two Queens' former palace of Concordia Arbos, the planet is plunged into night on one side and day on the other. With only shards of rock to her name and a band of ponies at her side, she sallies forth to bring back the Sun. She will traverse field and mountain, desert and labyrinth if she needs to. Will she be able to solve the mystery of the Elements of Harmony? Who was NightMare Moon, and what evils come to Equestria apart from her everlasting night? And why does Queen Celestia believe that making friends takes priority over everything else for Twilight...?
---
Can be found on TV Tropes.
Has a YouTube reading by our own Alchemystudent.
---
The Elements of Friendship, Book I: Harmony
The Elements of Friendship, Book IS [interlude one-point-five]: Bonds
The Elements of Friendship, Book II: Chaoskampf
The Elements of Friendship, Book IIS [interlude two-point-five]
The Elements of Friendship, Book III
The Elements of Friendship, Book IIIS [interlude three-point-five]
The Elements of Friendship, Book IIII
Chapters (22)