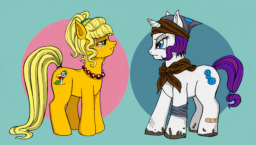 Source
- Act I - Act II - Act III (You are here)
Applejack has found her farm, but it's hardly the way she remembers it. The Apple family is struggling to get by, managed by a version of Rarity who isn't afraid to get her hooves dirty.
Rarity finds herself in high society with a most unexpected host, a prim and proper version of Applejack. Together, they must track down the only pony that can save Equestria, if she's even still alive.
Twilight Sparkle has set sail to the Aurora to find Celestia, the memories of an ancient tapestry flittering in the back of her mind and a sense of desperate urgency driving her.
A pony will face the ultimate test, a test she is doomed to fail, at great cost.
Act I Here: http://www.fimfiction.net/story/92
Act II Here: http://www.fimfiction.net/story/96
Picture by stellarina. She's a talented artist that doesn't have nearly enough pageviews. Show her some love here: http://stellarina.deviantart.com/
Chapters (13)