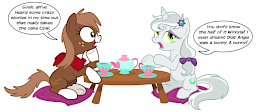 Source
Every week, Winona the Earth Pony and Opalescence the Unicorn meet to talk about their friends behind their backs.
Rated Teen for some suggestive references.
Despite the name, this isn't canon with regards to the fic Transdimentiol Zoology. Rather, it's my own take on the same premise, borrowing the name to use as a blanket term for the particular Alternet Universe concept of the pets being ponies, and potentially vice-versa.
Chapters (1)