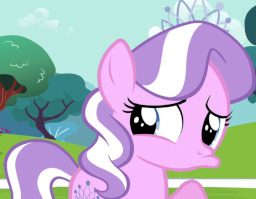 Source
This story is a sequel to Foal For A Day
---
(WARNING!:Like its predecessor, this is a padded pony fic, and as such it will contain diapers, diaper useage, and themes of ageplay to varying degrees! If you are uncomfortable with such subject material (or consider it outside your comfort zone),
please click elsewhere and DO NOT CONTINUE READING! You have been warned!)
(Proofread by Smity1038 on Deviant Art and proofread and edited by deadpansnarker on FiMFiction.)
It's been quite a while since that faithful day when Spoiled Rich decided the key to bonding with her daughter, was to give her a chance to experience a proper foalhood. Since then, Diamond Tiara and Spoiled Rich have grown somewhat closer, and even Filthy Rich has to admit their parent/child relationship seems to be improving.
But now, Spoiled and Filthy have decided to take a big risk, and give their daughter a chance to have some playmates. Even if that means letting them know about Diamond's secret.
Will Tiara be comfortable with the idea of other ponies knowing about her secret? And just who do her parents have in mind for "playmates"?
Chapters (10)