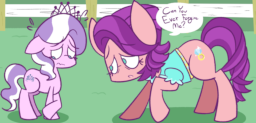 Source
(Story originally written by Matt11. Transferred and rewritten with permission.) (WARNING!:This is a padded pony fic, and as such it will contain diapers, diaper useage, and themes of ageplay! If you are uncomfortable with such subject matter, please click elsewhere and do not continue reading! You have been warned!)
(Takes Place immediately after Crusaders of the Lost Mark. Proofread by Smitty91, chapters 2+ edited by deadpansnarker.)
Diamond Tiara, with the help of her new friends, gets the courage to tell her father everything that her mother has been doing.
Diamond Tiara truly just wants a better relationship with her mother, but she fears nothing will change. However, a change is coming in Diamond Tiara's life, and not necessarily in the way that she expected.
When Spoiled Rich is given a second chance to prove herself, will she be able to form a genuine bond with her daughter, or have the years of torment and suffering left too harsh of a wound to heal?
Chapters (6)