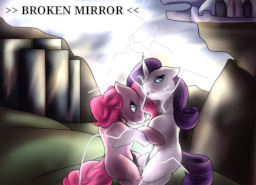 Source
>> There is a world, not far from the Equestria you know and love, where things are much different. How exactly? Well, that will be discovered as time goes on. It isn't all sunshine and rainbows, though both those things exist.
Through an accident that probably could have been prevented were proper precautions in place, two ponies by the name of Rarity and Pinkie Pie are sucked into this nearby world, where they must learn its rules to survive.
If you are squeamish, have a distaste for angry drama, or just can't take ponies being absolutely dastardly, you should leave now, before your poor mind gets triggered. There will be pain and suffering, and there will be nothing your distant psyches can do about it.
Those who are still here - I don't know why you're reading this. I just know that you are. And that I will be your guide.<<
A reboot of the story of the same name by Keywii_Cookies55
Art by Zero-Ice
Chapters (29)