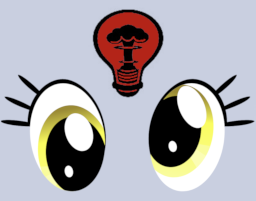 It's been several years since Ditzy Doo helped stop the Elements of Harmony from accidentally destroying the world. Since then, there have been a number of developments familiar to those who followed recent Equestrian history in more conventional timelines. Some saw her assistance; others didn't. Chrysalis she could help with; Starswirl's Unfinished Spell not so much.
But there's one impending disaster that won't be familiar to any onlookers. In this world, ponies age at roughly twice the rate of humans until they turn ten. Little Dinky Doo is seven going on sixteen.
The first impulse of any planeswalker is to run away from the problem. That doesn't work when the problem is her daughter.
A much-expanded version of an entry in the 11/8 Quills and Sofas crossover speedwriting competition. Set roughly between Seasons 4 and 5. Kindly preread by Akouma.
Chapters (1)