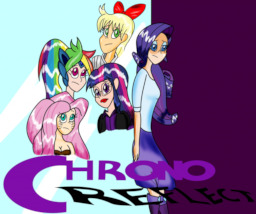 ---
Rarity has a wonderful life. She has a wonderful family, great friends, and lives in probably the best neighborhoods around, filled with bright colors, nice people, and even a hint of magic. If she could, she'd stay here in this peaceful world forever.
Sadly, fate has other plans for her. A mysterious creature appears one day in the portal to Equestria, and causes a phenomenon that thrusts Rarity out of her world and into another one. In this dimension, nothing makes sense. Her friends aren't who they're supposed to be, Canterlot is nowhere near as bright, and for some reason, no one knows who she is. Determined to discover what happened, Rarity will journey to a number of Parallel Dimensions, all to learn what that creature was, what happened to her world, and how to get it back.
But she's a part of something much bigger, and may learn that returning to home may be the least of her worries.
---
Will now update regularly, every Tuesday.
---
Crossover with Chrono Trigger and Chrono Cross, taking place after both games. Information on the games is not needed to enjoy this.
All characters have normal colored skin, despite this being canon to the Equestria Girls movies.
---
Chapters (35)