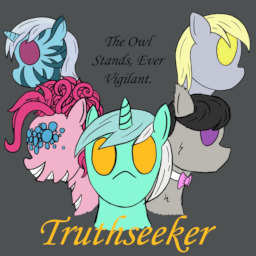 The Vigilant Owl: an underground network of specialists, who work in secret to protect the ponies of Equestria from harm. Spread throughout the continent, they use their unique gifts and talents to ensure that the populace can continue to live happily, ignorant of the horrors that lurk just out of sight.
Their newest member: Lyra Heartstrings, Truthseeker.
---
A Russian translation is being made by Wing Regent, and can be found here.
Fanart of Octavia and Pinkie by Ari-10.
And art of Bloo by Devil Sugar!

Chapters (65)