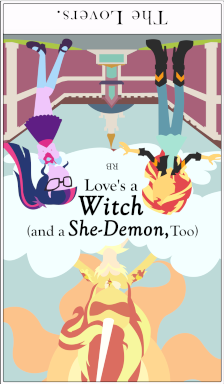 Love is supposed to be able to save the world. Twilight Sparkle and Sunset Shimmer discover that the opposite is also true.
---
An entry into honourable mention in Oroboro's third Sunset Shipping Contest! Read the other entries here.
Special thanks (and apologies) to: Undome Tinwe and Lofty Withers for prereading, and Marcibel for advice.
The cover art was made by me! But it was laid out and referenced off of the vector work of Twimix, Uponia, Stinkehund, and Imperfectxiii, who are all quite talented people.
Continuity note: I have not seen the latest Equestria Girls special, so if this breaks from canon, that's my excuse, and I'm sticking to it.
Chapters (5)