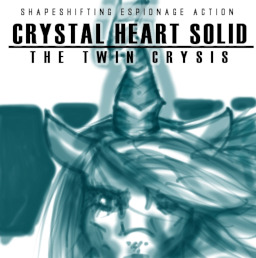 All Chrysalis ever wanted was a big, brave stallion who would sweep her off her hooves and love her forever. That's not too much to ask, is it?
On her first trip into Equestria, she meets the perfect pony for her, the pony she knows she's destined to be with forever. In one world, she goes back home and returns years later to take him by force. But what if she decided to go after her knight in shining armor another way?
And what happens when everything goes wrong, and she ends up stuck serving a pink pony princess instead of working alongside the stallion she's interested in?
Credit goes out to King of Beggars and his story Twilight Sparkle of the Royal Guard, and all the awful pitches we throw at each other for knockoffs and parodies.
Chapters (6)