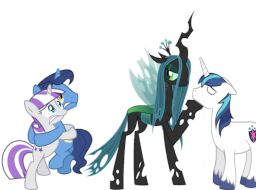 You know that moment when you just meet... that pony? The one who you have the instant chemistry with, and you can just tell that you're meant to complete each other's hearts?
Shining Armor felt that when he met Chrysalis at a park in Canterlot. Granted, she was disguised as Fleur de Lis, but that wasn't the point. He was attracted to her, be it by her looks, or her regal demeanor, and that's really all that matters.
Slowly, they fell in love, even after Chrysalis revealed her true form to the white unicorn. They're begining to imagine an entire life with each other, growing old together.
First, though, Chrysalis must meet Shining's parents.
*Thank you so much for helping put this onto the popular stories list!!!*
**Now with cover art by Shadow Bolt!**
Chapters (1)