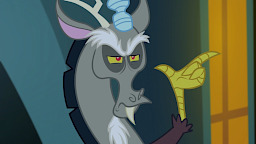 In this sequel to Window Repairs, Discord goes to Tatarus and confronts Tirek over how he tricked Discord into believing there was something more valuable than friendship.
Also contains references from Unwanted Guests
AUTHOR'S NOTE: I'm honored to inform you all that this story on July 29, 2016, was given the audio treatment by the Highland Bronies of Scotland. Special thanks to Infinite Affection for making it all possible! Here it is!
Chapters (3)