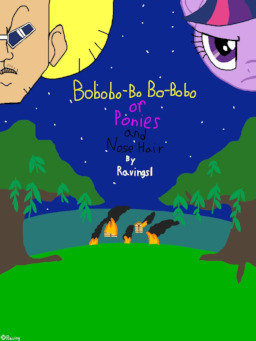 After the defeat of Czar Baldy Bald the Fifth, Bobobo and the gang gets a much deserved vacation. However their vacation quickly goes south as things start to hit the fan. And what I mean by that is that a raging thunderstorm dawns over our heroes. And in a failed attempt to try and combat the storm, they're struck by lightning... how surprising. Anyway, this was no ordinary lightning strike, this bolt was embedded with magical properties.
Magical properties that transport our heroes to a different universe. At that time though, in a land known as Equestria, it is in a dire state. Many ponies are either missing or dead, and everything is falling apart. And it just so happens that Bobobo lands in Equestria. Will the gang be able to save the place from what ever has befallen it?
---
Believe it or not, the cover art is by me. Crappy first time I know, but I hope to get better in the future.
Chapters (5)