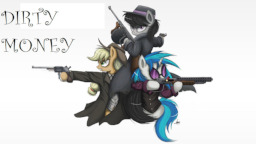 Source
After being betrayed by her old boss, young Coco is recruited into a new gang of criminals and low-lives. Her job? Do what her new boss says, or else. Living by this creed, she starts to take the streets of Manehatta​n. But, when some old friends with a grudge aim to take her new boss's life and Coco's along with her, they must learn to live and fight together, or die...
Prereaders: maxxxxxx and F1utt3rshy
Editors: CogWing and Dont Look At My Name Bro.
Set in the 1950's.
This story originally belonged to Manes, hopefully I will do the rest of this justice.
Chapters (1)