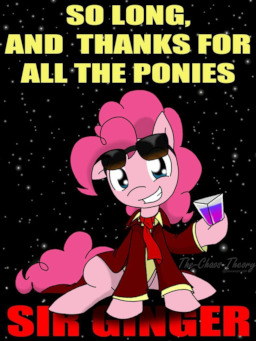 Source
More popular than the "Celestia's Homecare" omnibus, better selling than "Fifty-Three More Things to do When Trapped on the Moon", and more controversial than the infamous "Cupcakes", how does the story of this remarkable book differ in a universe full of... pony?
After escaping the destruction of Equestria at the hands of some big ol' meanies, Pinkie Pie leads her friends on a series of baffling, mind boggling and downright nonsensical adventures through a galaxy where harmony is in short supply, but aliens, monsters and chaos are most definitely not.
Gasp! As they meet strange alien creatures!
Cry! As emotional torment assails our characters!
Groan! As the Author includes yet another 4th wall break!
And most importantly, DON'T PANIC
Chapters (22)