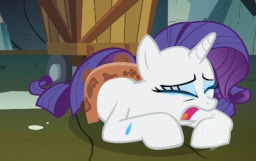 While everypony around him has gotten old, Spike has barely grown up. Only one of the bearers of the elements of harmony is left, and even she cannot last forever.
Spike and Rarity remember the good old days, but Spike still has a whole lifetime ahead of him.
My first effort at writing a pony fanfic. After a night of listening to "A Walk Down the Trail" and reading sadfics, I smashed out 1000 words of unplanned sad and sent it in. That was almost a year ago now. I'm uploading it more for competeneteness than anything, it really is very short and has plenty of flaws.
Chapters (1)