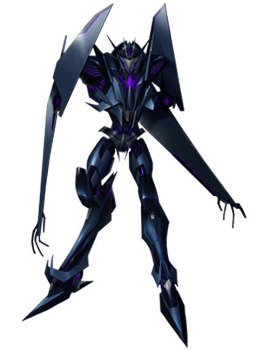 I finally saved up the money. I finally had a costume I felt was sufficient. I finally got to go to Botcon. As Soundwave. I even practiced his special disturbing walk cycle for extra effect. Granted, I had to do it all with a missing Laserbeak, but hey, I could always roleplay that the little bugger was off on reconnaissance.
Then I saw a way to skip that little mistake altogether: A perfectly sized, articulated Laserbeak, with straps to hold it on properly. I didn't even think about it. I didn't think about why what appeared to be an entire prop shop was set up in the middle of a con. I didn't think about what the chances of this particular prop even existing were. I couldn't even be bothered to think about the creepy dude wearing a creepy hooded robe working the booth as he chuckled at my enthusiastic strapping on of my perfectly-sized addition.
Now I'm in the world of ponies, and have been turned into one of the most technologically-advanced villains of a completely different universe. Nothing to do now except make myself useful, I suppose.
-----------------------------------------------------------
And thus, I throw my hat into the ring with all the other LoHAV stories. I've been wanting to do this pretty much since the whole trend started, but couldn't figure out which character to use. Let's see how this goes, shall we?
Chapters (2)