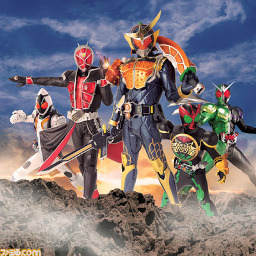 Many thought Chrysalis was defeated after being banished from Equestria by Princess Cadence and Shining Armor.
They were wrong.
As preparations for the Summer Sun Celebration are being put underway, Chrysalis returns to attack Canterlot. However, this time she brings along some new allies: Foundation X and an army of Kaijin.
The Kaijin prove too much for the Princesses and the Elements of Harmony to defeat. In order to defeat Chrysalis and her army of Kaijin, Princesses Twilight, Celestia, and Luna must summon five champions to aid in their battle.
Five champions who stand for peace, justice, and who will protect the lives of the innocent and strike down evil wherever it may rise.
Five Kamen Riders.
Original Idea by BronyRanger and FriendofBronies
Story written by BladeSpark and Michael Ravencroft
This is a collaboration between myself, BronyRanger, and FriendofBronies. All rights belong to their original owners.
Hope you all enjoy.
HENSHIN!!
Chapters (13)