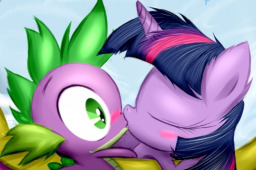 "He truly loved her and knew she loved him just as much. The dragon gulped deeply as a fluttering sensation occupied his stomach. He didn't just love Twilight as a friend."
After finally giving up on Rarity, Spike realizes that the true mare of his dreams has been in his company for a lifetime, but is unsure if Twilight would ever consider him as more than a great friend and assistant. The only way he can find out is ask.
*Featured 2/20/2014, Thank you all so much!*
Cover Art: Hey,.. real' quick, before the intro starts.. by Frist44
Special thanks to all the readers who pointed out grammar and spelling errors. You're great proofreaders!
Chapters (3)