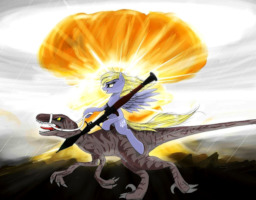 Once originally a one chapter story, now it is a two chapter story! Both chapters revolve around Derpy Hooves, the fan favorite, going on adventures that involve Dinosaurs.
Oh yeah, and hell breaks loose.
Cover by Madhotaru.
Just a poor attempt at trying to get a story featured.
If you expected this story to be good, you're in the wrongest place, sir. But please like unless you want to make Derpy cry...or make her mad, and trust me, you REALLY don't want to make her mad...
Chapters (1)