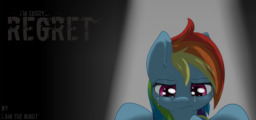 Source
Words can hurt. Sometimes, that hurt is permanent.
One too many accidents results in a falling out between you and Rainbow Dash, the mare of your dreams, and your friendship with her lies on the brink of destruction. Twilight suggests a vacation to clear everyone's head. Could this be your last chance to make amends, or will you spend the rest of your life filled with regret?
---
Alternate Universe for wingless Princess Twilight. Might just change this out, because it's a pointless change, tbh. :)
This is a story I've been fantasizing about in my head for a while now. It's had some changes in its development for later chapters to make sense.
Story cover edited by me, original drawing by the lovely RatOfDrawn.
Chapters (14)