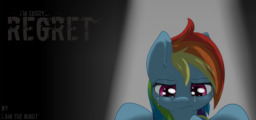 Source
[featured on 7/9 & 7/11]
A picture can be worth a thousand words.
But a word can be worth a thousand paths.
This is your story. When your natural clumsiness results in a preventable incident, Rainbow Dash, a mare you've crushed on for a long time, lashes out at you in the worst way.
But when she comes to terms, it proves too late. And when you are the one to suffer the consequences, only one word will linger on her mind for the remainder of her days.
Regret.
Alternate Universe for wingless Princess Twilight.
This is a story I've been fantasizing about in my head for a while now. It's had some changes in its development for later chapters to make sense.
Story cover edited by me, original drawing by the lovely RatOfDrawn.
Chapters (14)