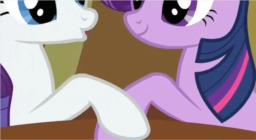 Whenever Twilight Sparkle was with her marefriend, she couldn't help but notice little spots here and there. She thought nothing of it. She didn't know what it was, and she was afraid to ask.
...and for Rarity, she kept a secret to herself. One sort of secret that she knew she couldn't control.
---
This was something I wrote for the Twarity prompt collab. A stand-alone oneshot for a bit of my own venting in it. Not one of my best pieces, but I thought it should get published, because why not?
Chapters (1)