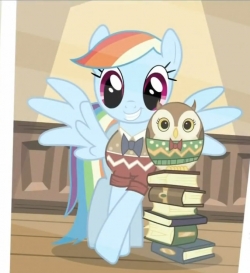 Rainbow Dash is a headstrong, athletic pony who is utterly faithful to her friends and doesn't keep any secrets from them. Or so she pretends. Yet a surprise visit from Twilight Sparkle is about to blow the secret wide open, and the multi-hued pegasus will find out just how strong their friendship is.
Note: This story was written in the week following the airing of "May The Best Pet Win", and well before "Read It and Weep" was even known about. As such it haws since been overtaken by canon, but most folk tend to like it still so I will upload it here so I have a bit of a presence on FIMfiction beyond "lurker #347,921".
This story also includes "The Unrelated Epilogue" which is a mini-story based on a loose bit in the main one that I felt did not stand on its own, but that I wanted up nonetheless. It has Luna, but not RD or TS.
Cover image is a screencap from the show.
Chapters (2)