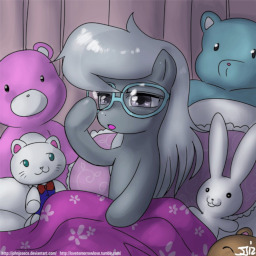 Source
Silvia Spencer and her parents run a jewelry shop in Portland, Oregon. One Marsday morning, she wakes up to find herself in the body of a metallic grey filly named Silver Spoon. As she copes with memories of this filly, and her smaller body she seeks out some friends who will help her. One of Silver Spoon's classmates and best friends is a filly named Diamond Tiara. Will Silvia/Silver Spoon find her pony friends in time to help them before the anti-pony group PAPA plan an attack? Can Silver Spoon's upcoming journey with "Blank Flank" Babs Seed change her "Mean Pony" reputation?
Part of the PonyEarth Universe
Thanks to ServingSpoon, who is providing the role of Diamond Tiara in this fun story, as well as Golden Skies as Red Delicious/Apple Fritter/Apple Cider and Almar Zewizard as Babs Seed!
.
Silvia/Silver Spoon later meets Apple Fritter and Red Delicious in Tending the Tree. She also encounters Colton/Babs Seed in this story, and in a cross-collaboration story, Breaking Babs. They end up travelling together and make it to New York.
Chapters (3)