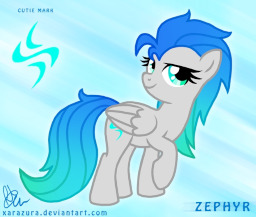 Source
William Weston, a promising new weather reporter for a local news program had a great new job, until a series of unexplained events after his 25th Birthday. The first strange occurrence surrounded the appearance of a strange blue-green Cutie Mark depicting the gentle west wind belonging to a weather Pegasus named Summer Breeze appearing on William's outer thighs. Throughout the course of a week, William's life begins to get stranger and stranger as his body begins to change. From the ashes of William's life rises the new blue-green haired weather mare, Summer Breeze. Where the gentle winds take her, is up to her.
In addition to Summer Breeze, her sisters have become ponies. What will happen next when they meet others who are experiencing similar transformations?
Berry Frosting, one of Summer Breeze's friends, has her origin story:
The Weird Taste of Change
Special Thanks to some new collaborators:
Proofread and Edited by Dusty Tome and IronHoofes.
Artwork by White Tigress
Principal Cast of Ponies:
Summer Breeze - kwr2k13
Autumn Breeze - IronHoofes
Solar Bolt - Musical (with help from SolarBoltIsBestOC)
Cherry Cloud - sugarush13
Winter Breeze - Dusty Tome
TheGingaNinja - Spring Breeze
Axel - Lord Legion
Sky Breeze - Aqua Splash
Red Bolt -Runforever101
Night Glider - kevanick
Lightning Storm - Lightning Shield
Pencil Lead -Pencil Lead
Yukieiros - Winter Song
Chrome Masquerade - Winter Fields
Chapters (17)