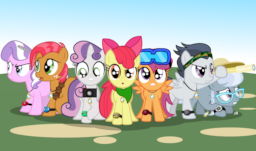 The Cutie Mark Crusaders couldn't be happier. They've finally managed to earn their Cutie Marks, and make a couple new friends along the way. As they eagerly look forward to summer vacation, Apple Bloom invites Silver Spoon and Diamond Tiara to join her and the rest of the Crusaders at Camp Friendship. Seeing this as an opportunity to make up for all the torment they caused for the three fillies, they accept. After discovering Babs Seed will be joining them, the promise of a fantastic trip seems all the more likely. And if Rumble's stories about his experiences here from last year are true, this trip is shaping up to be out of this world!
But when the seven eager ponies stumble across a set of mysterious devices, a trip out of this world is exactly what they'll get. Stranded, surrounded by strange creatures called Digimon, and with no clear way home, one question plagues their minds: what does this Digital World have in store for them?
---
Inspired by Digimon: Equestrian Destined by SuperKamek.
Cover art made by Lightning Bliss.
---
Hit the Feature Box on 3/23/18! AWESOME!
Featured again on 2/17/19!
Wow, featured again on 9/11/19! You guys are awesome!
Chapters (20)