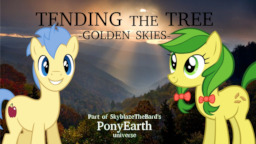 One morning I wake up to discover that I now share a body with Apple Fritter. After seeing just how cruel the world can be to the newly transformed ponies, me and my friends set out on a journey to assist ponies throughout the Western Hemisphere.
Part of Pony Earth Verse
Cover Art made by the Amazing: 1998alberto
The latest info regarding the story can be found in this blog post        HERE .
List of Characters: Apple Fritter, Red Delicious, Babs Seed, Silver Spoon, Apple Cider
Rated Teen for somewhat mild violence, and (if you can read foreign languages) occasional strong language.
Please, if you are going to up vote or down vote at least PM or comment telling me why so I can learn what I need to do better. Thank You.
Chapters (19)