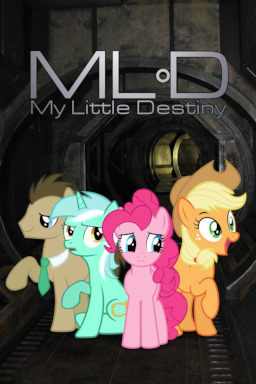 Source
Partially mirrored from The NP FanFiction Archive.
[Currently attempting a revival of this story after five years. I'd like to issue a personal apology for taking so bloody long.]
On the other side of the universe, the crew of the Ancient starship Destiny is awakening from stasis, to discover they've been asleep for much longer than they expected. Cut off from earth, and alone in a new galaxy, they carry on carrying on, wanting nothing more than to return to the home they left so long ago.
In the land of Equestria, the Warriors of Harmony have fragmented, and as old friends are lost, new friends and lovers are found. Meanwhile a great discovery is made regarding ancient pony history.
It won't be long before these two groups encounter their greatest challenge. A challenge they will need to face together.
A crossover with Stargate Universe.
The setting, as well as most of the characters and original concepts, are the property of either MGM or Hasbro.
[CC BY-NC-SA] My Little Destiny is licensed under a Creative Commons Attribution-NonCommercial-ShareAlike 4.0 International License.
Chapters (15)