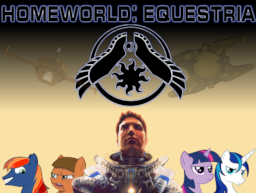 After the malfunction of an ancient transportation device, the Captain of a spacefaring warship finds himself alone on a planet full of unusual and impossible creatures. His curiosity eventually leads to the discovery of age-old mysteries, and perhaps age-old enemies...
...But what do they have to do with a few special objects on this planet?
Set in the universes of MLP and the Homeworld series, follow Captain Soban as he tries to reunite with his people and solve the once-thought-solved puzzle of the Progenitors, while keeping himself sane in a world that spits in the face of physics.
Chapters (18)