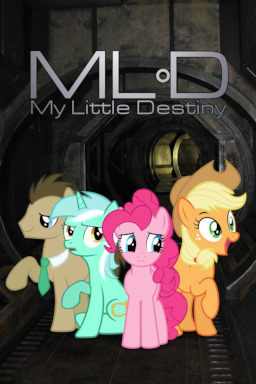 Source
Partially mirrored from The NP FanFiction Archive.
[Currently Off Hiatus. Episode Two: The Forge of Friendship now available on The NP FanFiction Archive.]
On the other side of the universe, the crew of the Ancient starship Destiny is awakening from stasis, to discover they've been asleep for much longer than they expected. Cut off from earth, and alone in a new galaxy, they carry on carrying on, wanting nothing more than to return to the home they left so long ago.
In the land of Equestria, the Warriors of Harmony have fragmented, and as old friends are lost, new friends and lovers are found. Meanwhile a great discovery is made regarding ancient pony history.
It won't be long before these two groups encounter their greatest challenge. A challenge they will need to face together.
A crossover with the Stargate Universe.
Full Cast:
Twilight - Rainbow - Fluttershy - Rarity - Pinkie Pie - Applejack
Apple Bloom - Scootaloo - Sweetie Belle - Spike
Dairy Milk - Pip - Ink Jet - Rumble
Celestia - Luna - Cadance - Shining Armor
Moonlight - Red Rain - Scales
Spitfire - Caramel - Heartstrings - Fizzypop
Mercury Bubbles - Paradigm - Paradox
Everett Young - Matthew Scott - Ronald Greer - Tamara Johansen - Vanessa James
Eli Wallace - Nicholas Rush - Camile Wray - Helladius Morrison - Varro
Lisa Park - Elliot Boone - Chloe Armstrong - Ginn - Adam Brody - Amanda Perry
Dale Volker - Rachel Inman - Teresa Barnes - Maurice Dunning
The setting, as well as most of the characters and original concepts, are the property of either MGM or Hasbro.
[img]http://i.creativecommons.org/l/by-nc-sa/4.0/80x15.png[/img] My Little Destiny is licensed under a Creative Commons Attribution-NonCommercial-ShareAlike 4.0 International License.
[img]http://blackfandom.files.wordpress.com/2012/10/full-ad1.png[/img]
Chapters (14)