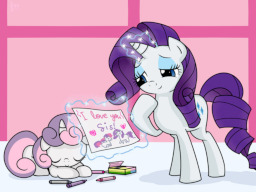 Sweetie Belle wants to become a fashionista like her older sister Rarity. Will Rarity's reaction to Sweetie's...art cause an inseperable rift between the two sisters? Or, will it help them learn more about each other and grow?
This story is a little different to the stories that I have done in the past, and I wanted to see how it went over. Whether good or bad, please tell me what you think! This is a big learning experience for me!
A big thank you goes out to Taranosaurus0.0, Stars Guide, Word-Sight, Criticul94, Vivex and Techogre for prereading and editing this piece!
The cover picture was drawn by Frankier77 on deviant art. Check this guy out he's got some pretty cool artwork! http://frankier77.deviantart.com/
Chapters (1)