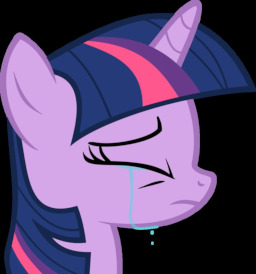 Rainbow Dash has just passed away and is survived by her marefriend, Twilight Sparkle. Twilight is broken by the loss of her lover, and believes that she will never smile again. Will one last message from her true love be enough to pull her from her misery?
This story is inspired by the poem "Do not Stand at My Grave and Weep" by Mary Elizabeth Frye. A super big thanks goes out to Tyranasaurus0.0, TheStarsGuide, Magiccolt808, and Word-Sight for pre-reading and editing this!
The cover picture was drawn by hombre0 on deviantart. You can check out his page here http://hombre0.deviantart.com/
He says not to give him credit, well too bad. He's a talented artist and he deserves all the credit he can get.
This story is similar to another story I've written so I expect to get flack for this one.
As always thank you for reading, and I appreciate any criticisms that you give!
EDIT: A member named Dimondium created a piano concerto for this story. You can find the video here http://www.youtube.com/watch?v=l4uxdzoF6sA&feature=youtu.be
The song is very beautiful and, in this author's opinion, this story does not even compare to the heart tugging power of that song. Thank you Dimondium, you have no idea how honored I am.
Chapters (1)