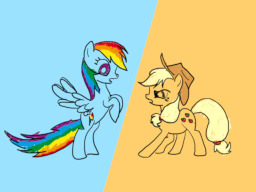 Rainbow Dash and Applejack have been married for four years, they adopted a foal, a red pegasus named Reddawn, and settled down on the farm. However, all is not well. Rainbow Dash's demanding career as a Wonderbolt is threatening to tear the family asunder. Will Rainbow Dash choose to continue her career as a Wonderbolt, or choose to give up her career to stay in Ponyville with her family?
A very special thanks goes out to Vivex, Taranasaurus0.0, Word-Sight, and Sour Grapes who helped out with prereading, editing, character analysis, and plot ideas. Without them, this story would not have turned out half as good as it is. The wonderful cover picture for this story was done by DaVca from DeviantArt.
Please feel free to leave any comments or criticisms! If you see something wrong with the story, go ahead and tell me in the comments, I can use all of the help I can get as a writer!
Chapters (2)