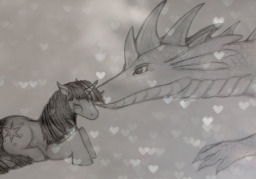 Spike has just woken up from his hundred-year sleep and realized that none of his friends are around anymore. He is deeply stricken with grief. Can a letter from his wife Rarity, gifts from his friends, and a poem from Twilight Sparkle help ease the pain of their loss?
The cover picture was drawn by Azzurgil on deviant art (http://azzurgil.deviantart.com/). I really enjoyed her work because she does a lot of dragon art (which I am a huge fan of). This story was preread by Criticul94 and Taranasaurus0.0. Not only are these guysawesome prereaders, but they are great writers. Check their stuff out!
When I was writing this story I didn't mean for it to take the turn that it did, however a personal event that happened in my life made this what it is. I hope those that read it enjoy it.
Chapters (1)