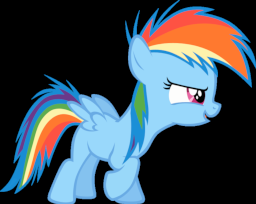 Since I didn't feel there were any tags that matched the theme of this story, I made my own. Tag: [Motherhood] [A Parent's Love]
Love is one of those strange forces in nature that sometimes defies explanation. An old saying says that parents love their children, no matter what. Rainbow Dash is a rambunctious, wild, and rebellious filly that wants to live her life her own way. Her mother just wants her to go to school and get an education so that she can have a good life. Will Rainbow Dash's wild attitude sever the ties that bind a filly and her mother, or can Rainbow's mother weather the storm and still be a good mom to her daughter?
A really big, huge thanks goes out ot Taranasaurus0.0, TheStarsGuide, Magicolt808, Arimuss, Criticul, Tyek, Guesswork, Radator, BaroqueNexus, Word-Sight, Vivex, Dimondium, DevilBlade911 and Bahatumay for prereading and editing my atrociously bad grammar. If there is someone I missed that should be added to this list, message me and I will add you.
The cover picture of this story was created by Daviez on deviantArt, check this guy's stuff out. If you like wetmanes you really might be interested in his gallery. http://daviez20.deviantart.com/
This story was inspired by "Love You Forever" by Robert Munsch. I had not heard the story for several years before I wrote this, and forgot what it was called. However the story was so powerful I could never forget it.
Chapters (6)