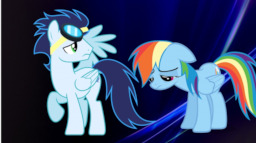 This story is a sequel to Rainbows and jealousy
---
Sequel to Rainbows and jealousy and Rainbows and music This is the third story in the rainbows and stories trilogy First one was Rainbows and music.
I recommend you read those stories first cause there is quite a lot of character development in those two stories. and if you read them this story will make more sense.
---
After the whole Thunderlane thing was over couple of weeks ago Soarin and Rainbow Dash can finaly star their new life together. but the trade negotiations between Equestria and Saddle arabia go south and the world is at the brink of a war. Tragic love story between Soarin and Rainbow Dash whose future together is threatened by war and death.
(Rated teen for mild cursing, occasional violence and some mature themes)
Chapters (23)