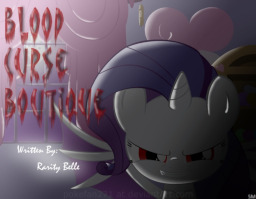 Source
"What would you say if I told you, that there was another race of ponies that lived upon the face of these lands? A kind that feeds itself on the blood of others and is said to live for a near eternity. One would declare me crazy of course, others would just walk away without a word said. But what was thought to be just myths and legends, have become a surprising reality. A reality I'm forced to live in. A curse of blood is rushing through my veins and a monster lurks beneath the lady I once was." -Rarity
What can one simple and humble unicorn tailor do when her life suddenly gets turned upside down? That she finds herself as a being that was by many believed to be nothing but folklore of the dark ages and ghost stories to scare the foals? How would the world react to her when she tells that what she has become?
Only one simple answer could be found on the question and that is to live her life in secret for the rest of time. Never reveal that what she has become to anypony, not even to her own family. If things were only ever that simple. For Rarity, the mare of beauty and fashion, is suffering a curse of blood. A curse she had gained without her even wanting it. But two things are more than sure. Neither Rarity nor her boutique will never be the same again.
Can the graceful unicorn withstand the temptations of the night long enough to keep her sanity in one piece, or will she fall from her stand and crumble into the darkness that is her own madness and new nature? Is she strong enough to fight off her the mental demons that haunt her mind? Blood will be spilled and drunk, that is the third certainty that can be given.
=============================================================================
Donations are welcome.
*featured on 09-16-2013* Thank you all so much!
Rated Teen for suggestive themes and spilling of blood as well as minor gore.
Others tag is for all the other characters that are used within the story, including OC's.
Cover image was created specifically for the story by the ever so wonderful and talented Pokefan271.
Listen to the song made for the trailer by nobody else then then the equally wonderful and talented RaRa Leaire.
Don't like the FIM fiction format? Try these then,
Google Docs index
Fanfiction prologue
Pony fiction archive prologue
Fan wiki page
Chapters (56)