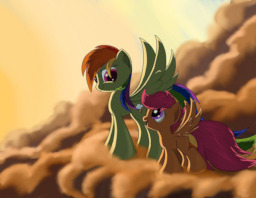 Source
By Scootaloo's age, Rainbow Dash had won countless competitions. As Ponyville's Annual Bounceball Competition approaches, Scootaloo dreams of following in her hoofsteps. Equipped with unquenchable determination and drive, she knows nothing will stop her... except, perhaps, herself.
As seen on Equestria Daily.
Featured in The Royal Guard.
Edited by Horse Voice.
Thanks to R5h and Prak for helping with the revisions.
This story has been read and approved by Maddy "Scootaloo" Peters.
Chapters (1)