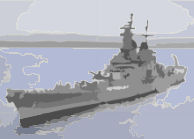 On the eve of the Gulf War, a US Navy ship sails through an intense storm and into a different world.
Equestria and the other members of the United Lands are attempting to remove the dragons from their encroachment into Zebrica, but diplomacy is failing. While nopony wants a war, it appears that there might be no other option.
Captain John Mittal and the rest of the sailors aboard USS Wisconsin have some tough political and ethical choices to make. This isn't their fight, but can they stand by while the rest of the world prepares for war?
Chapters (8)