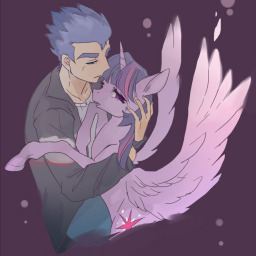 Source
Brad and Twilight Sparkle are madly in love, so madly in love that Brad agrees to follow Twilight through the mirror portal to Equestria, where the two of them plan to have a big pony wedding.
. . . Problem is, after Brad comes to Equestria, he doesn't turn into a pony.
---
Featured on Equestria Daily!
Now with its own TVTropes page!
Cover art by PicoBox.
(This is based on the first Equestria Girls trailer and on subsequent fan speculation.)
Chapters (15)