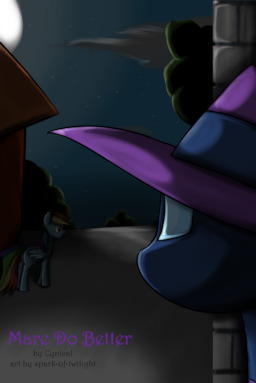 Source
Mare Do Well earned her place in the history books of Ponyville as one of its greatest protectors alongside the likes of Supermare and Batmare.
But Mare Do Well hung up her cape after teaching a lesson to one of the most egotistical mares in Ponyville.
So who is it on moonlit nights, that hops from rooftop to rooftop, who leaves crooks and con-stallions outside the doors of the watch-house, and who always arrives just in time?
Mare Do Well may have taught Rainbow Dash one unforgettable lesson, maybe Mare Do Better will teach her another.
A/N: This story starts after the Mare Do Well episode in season 2.
Major thanks to Twilight the Pony (previously Spark-of-Twilight) for the art (now with source!).
Chapters (7)