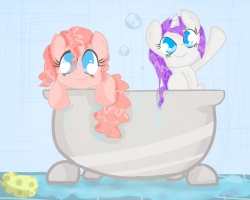 Source
It's bathtime AGAIN for some of the young characters, and who else but you gets to wash them? Each filly and colt has a different personality, though, and some of them REALLY hate baths!
Cover by ~strabArybrick on deviantart
Written with permission, as a continuation of the beloved "Bathtime for Ponies" by the boss, Derpsanddinks404
If you haven't read part one, it's great! And it's right here, go see it first.
Many different characters all get their very own chapter, so the only tags will be, "other" and most of the beloved ponies have already gotten a chapter in part one.
Chapters (41)