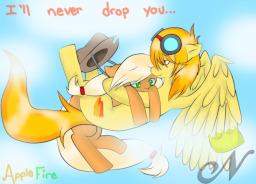 Source
Applejack is a simple pony. But a hard working one. Working day in and day out, she provides for her family in a good, honest way. She would not have it any other way.
Spitfire is a Wonderbolt. A damn good one at that. At least, that was until recently.
Now she is going to bring a whole heap of trouble to Applejack's doorstep.
Chapters (4)